When you bring up the subject of plastic surgery, most people tend to think of just the popular procedures, such as rhinoplasty, a face lift or breast augmentation.
The reality, however, is that there are actually many different types of cosmetic procedures that can change or enhance the way you look. In fact, there are over 50 of them!
So if you don't like something about your body, there's a very good chance that a type of procedure already exists which could help to bring you the results you desire.
And even if what you want to have done isn't yet possible, it probably will be very soon due to the rapid advancements being made in medical technologies and surgical techniques.
Types of Plastic Surgery
For those who are currently considering plastic surgery, but are not yet sure what options are available to them, the list below provides a brief description of the most commonly performed types of plastic surgery.
If you want to change something about yourself, you will probably find a way to do it with at least one of these procedures!
Facelift
A facelift (rhytidectomy) is currently one of the most effective surgical procedures to reverse the visible signs of aging.
It is often said that a good facelift can make you look 10 years younger, so it's not surprising that it's also one of the most popular types of plastic surgery.
The purpose of a face lift, as the name suggests, is to lift the skin so that it can be tightened to reduce the amount of sagging or laxity.
This can help to restore a more youthful and refreshed look to the face by addressing problem areas such as sagging cheekbones, sagging jowls and a lack of definition around the jaw line.
Contrary to what most people think, a facelift isn't actually that effective at getting rid of existing wrinkles, although it can be effective at slowing down the rate at which new wrinkles and fine lines develop.
There are also different types facelifts that you can have done. A mini-facelift, for example, only lifts certain regions of the face to tighten those areas which need tightening.
This results in a shorter recovery period and lower cost when compared to other types of facelifts.
A full facelift, involves lifting more regions of the face, essentially pulling the whole face back. This type of procedure tends to be carried out on older women who have a lot of sagging skin.
If done incorrectly, however, a facelift may leave a woman with a permanently surprised looking appearance or with skin that appears over tightened, something which tended to be quite common when surgeons first started performing facelifts.
Facelift Surgery in 10 Minutes
Although a good facelift can make you look years younger, it's important to remember that facelift surgery does not produce permanent results.
Your skin will continue to age, and so if you want to maintain your results you will need to undergo further surgery every 10-15 years.
Eyelid Surgery
Eyelid surgery (blepharoplasty) is designed to help restore a more youthful looking appearance to the face by removing excess sagging skin around the eyes.
For example, upper eyelid surgery can remove skin that hangs above the eyes beneath the eyebrows. This can make a person look tired, and in severe cases, may even start to impede normal vision.
Lower eyelid surgery addresses another common cause of tired looking eyes: bags underneath the eyes, also known as "eye bags".
Eyelid Surgery in 10 Minutes
Depending on what type of procedure you have done, excess skin will be removed along with the underlying muscle and sometimes fat. The resulting scar will be barely noticeable and should be concealed naturally within the folds of the skin.
People who have eyelid surgery generally experience very positive results, as their eyes look wider and brighter thereby giving them the appearance of being much more awake and refreshed than they used to be.
Forehead Lift
For some people, their only complaint is a wrinkled forehead. So rather than getting a full face lift, they may only need a forehead lift which is also sometimes called a "brow lift" or "browplasty".
This procedure can help to eliminate or reduce deep frown lines, sagging eyebrows, a low brow line and furrows between the eyebrows.
The result is an improvement in your appearance by making you look younger and more alert, as shown in the following video of an endoscopic brow lift.
Similar results can also be obtained with Botox injections, but because the results are only temporary, most people eventually decide to get a forehead lift as it provides them with a much more permanent solution.
Surgical forehead lifts can also produce more natural looking results than Botox, although they do come with the disadvantage of leaving behind scarring.
The good news, however, is that the scars from your surgery can usually be concealed quite effectively within the hairline, although this may present more of a problem for men with a receding hairline.
Facial Implants
If the shape of your face is of concern to you, you may consider having facial implants. There are implants for virtually every area of your face, such as the chin, jaw and cheeks.
Facial implants can help to make certain areas of your face more prominent, or be used to even out uneven areas.
The result is a face that looks more symmetrical with tighter and more defined contours, which most experts agree is an important determinant of how attractive others perceive you to be.
Facial implants can also be used to make a fashion statement. For example, stars, horns or other shapes may be placed underneath the skin to give a person a very unique looking appearance.
When facial implants are used in such a manner, they are often classified under the term of "body modification" and so are not technically what you would consider as a traditional plastic surgery procedure.
Rhinoplasty (Nose Job)
The nose sits in the center of your face and so it's something that tends to get a lot of attention.
If your nose seems too big or misshapen, then plastic surgery for the nose, also called rhinoplasty or a nose job, can be an excellent way to significantly improve your overall appearance and boost your confidence when meeting and dealing with other people.
There are lots of ways that the nose can be cosmetically altered through surgery. A long nose can be shortened, a wide nose can be narrowed, a humped nose can be flattened and even large nostrils can be made smaller.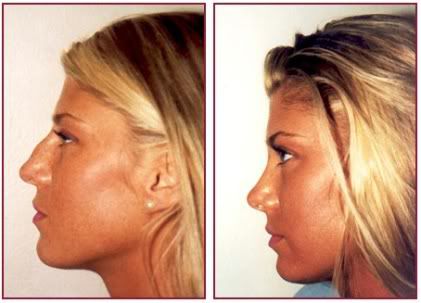 But however the nose is shaped, it must look natural on your face and all cosmetic surgeons will attempt to do this to the best of their ability.
For this reason, one cannot simply ask a surgeon to shape their nose like someone who they have seen on TV for example, as their nose may not suite that person's face.
This is perhaps one of the biggest misconceptions that people have when it comes to rhinoplasty, and many patients end up feeling disappointed when they are told that they can't have their "dream nose".
Non-Surgical Procedures
Non-surgical cosmetic procedures involve the least amount of downtime and pain out of all the different types of cosmetic surgery.
They also tend to be the cheapest, but they don't produce as long-lasting results as you would get from their surgical counterparts.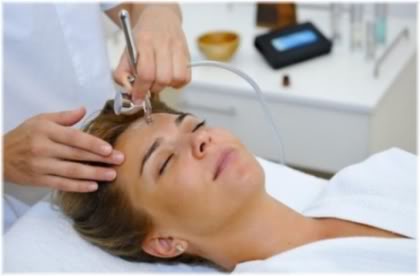 Some examples of non surgical cosmetic procedures include: Botox, dermal fillers such as collagen or restylane injections, chemical peels, laser skin resurfacing and microdermabrasion.
Liposuction is also generally considered to be a non surgical procedure, although in reality, it is actually a minor surgical procedure. 
The majority of the non surgical procedures are designed to produce short-term improvements in the way that your skin looks.
Botox injections, for example, can be useful in helping to reduce the appearance of wrinkles, whilst collagen can also be used to restore volume to areas such as the lips.
Microdermabrasion and laser skin resurfacing can be beneficial for reducing skin discolorations or hyperpigmentation, and so they can be quite useful for treating sun damaged skin or acne scars.
If you don't like the idea of undergoing surgery to improve your looks, or simply just don't have the money for it, non surgical procedures can be a very effective way to help you hold back the signs of aging and maintain your youthful look for longer.
Breast Surgery
Like most types of cosmetic surgery, there are many different types of breast surgery that a person can undergo. The word "person" was used just now because breast surgery is something that can be performed on both men and women.
The most common type of breast surgery is breast enlargement surgery, also called "breast augmentation" or a "boob job".
This involves making an incision around the breast region, and then inserting a breast implant to give the breast a larger and more fuller looking appearance.
Implants may also be inserted via incisions made underneath the arms or from the belly button if a woman is worried about scars being visible.
Although, with the standard procedure, the scars from surgery will be well hidden within the breast crease and thus be concealed naturally by the hanging of the breast.
Less common forms of breast surgery are breast reduction surgery and breast uplift surgery.
In the former, large breasts are reduced in size to ease the discomfort of carrying around a heavy weight on the chest. Men who have developed large breasts (gynaecomastia), may also undergo this type of surgery.
FDA: Breast implants don't last forever
With breast uplift surgery, sagging breasts are lifted in order to give them a younger looking appearance. Breast uplift surgery may also involve the use of implants to fill out breasts that have decreased in volume, such as due to age or after pregnancy.
When breast implants are inserted, however, they need to be replaced roughly every 10-15 years, something which many women are unaware of before meeting their surgeon for the first time.
Body Contouring
Body contouring procedures, sometimes called a "lower body lift", are designed to shape the body into a more attractive figure.
Such procedures are especially common with women who have recently given birth, with people who are unable to shift weight through diet and exercise and also with people who have lost a large amount of weight very quickly.
Body contouring procedures primarily address three areas of the body: the waist (abdominoplasty), the buttocks (buttock lift) and the thighs (thigh lift).
Tummy Tuck and Lower Body Lift after Weight Loss
Generally, a procedure will involve removing excess skin and fat from the body via a surgical incision. This, however, can leave a very noticeable scar which is one of the major disadvantages of having this type of surgery.
In some cases though, scarring may be more desirable than having large amounts of excess skin hanging from the body.
Weight loss patients who have lost a lot of weight very quickly for example, will require their excess skin to be removed in order for them to live a normal life.
For minor shaping of the body, such as the removal of small fat deposits around the abdomen, liposuction can be used quite effectively and without leaving behind noticeable scarring.
List of Procedures & Treatments
Below is a list of the different types of plastic surgery procedures and treatments that are currently being practiced by surgeons as of 2012.
This should give you an idea of the wide assortment of cosmetic procedures available, and what surgeons could potentially do to improve or enhance your appearance.
As medical advances continue, we are likely to see new procedures added to this list in the future:
* Botox
* Blepharoplasty (Eyelid Surgery)
* Breast Augmentation
* Breast Lift
* Breast Reduction
* Breast Implant Replacement/Removal
* Brow Lift
* Buttock Augmentation (Butt Enlargement)
* Buttock Lift
* Chemical Peel
* Dermabrasion
* Endoscopy (Keyhole Plastic Surgery)
* Face Lift
* Facial Implant
* Injectable Fillers
* Radiesse
* Restylane
* Juvederm
* Endermologie
* Thermage
* Sclerotherapy
* Facial Scar Revision
* Forehead Lift
* Arm Lift
* Gynecomastia ( Male Breast Tissue ) Reduction
* Hair Replacement
* Intense Pulsed Light Treatment
* Laser Hair Removal
* Laser Vein treatment
* Laser Skin Resurfacing
* Labiaplasty
* Liposuction
* Mentoplasty ( Chin Surgery )
* Chin Reduction
* Microdermabrasion ( Skin Rejuvenation )
* Neck Lift
* Otoplasty ( Ear Surgery )
* Rhinoplasty (Nose job Surgery)
* Rhytidectomy ( Face Surgery )
* Thighplasty ( Thigh Lift )
* Thread Lift
* Tummy Tuck
Age & Plastic Surgery
If you are thinking of having some "work done", you will be pleased to learn that you can have plastic surgery at virtually any age you want!
Different ages, however, may require different types of procedures as shown below:
Women (ages 30-60)
Around 80% of all plastic surgery procedures are carried out on women, perhaps suggesting that women are more insecure about their looks than men.
The most common procedures amongst women are breast enhancement surgery, facial surgery (including dermal fillers) and liposuction.
Ages 30-60 can be quite a good time to have plastic surgery. Depending on your age, you may already have established a career for yourself, have had children and possibly also have some money saved up in the bank. All of which can give you the time and resources needed to undergo plastic surgery.
Men (ages 30-60)
Men make up about 20% of all those who undergo plastic surgery, although this number is increasing as men are becoming more conscious of the way they look.
Men often undergo the same cosmetic procedures as women, such as rhinoplasty, face lift surgery and Botox. These procedures may, however, be slightly modified in order to accommodate the male body shape.
During facial surgery, for example, incisions are made in different places because men need to hide their scars behind a male hairstyle and possibly also a receding hairline.
Common procedures for men in this age group include: rhinoplasty, hair transplantation, dermal fillers and Botox.
Young Adults (ages 20-30)
The biggest increase in plastic surgery procedures has occurred in the 19 to 25 age group, with most of these procedures being carried out on women.
Young women tend to go for breast enhancement, rhinoplasty and facial peels. If cosmetic surgery were to fall in price, some surgeons believe that they would see a doubling in the number of young patients.
Some of the most common cosmetic procedures undergone by people in this age group are listed in order below with the greatest first:
• Chemical peel
• Microdermabrasion
• Nose reshaping
• Ear surgery
• Botox injections
• Collagen injections
• Breast augmentation
• Male breast reduction
• Liposuction
From a medical point of view, most surgeons consider the age of 20 to be the minimum age at which a person should consider having plastic surgery to change their appearance for cosmetic reasons.
This is because the body stops growing at around age 21-22. So if you have plastic surgery before this age, you won't get the best result from your surgery because the shape of your body is still changing.
Kids & Young Teens
Kids and teens are another expanding group who desire to have plastic surgery, and this is largely due to peer pressure from school and media role models.
Young children and teens are often very sensitive about their looks, and so may feel that by having cosmetic surgery they will become more popular and have a better time at school.
You can't blame them really, as fitting in at school and having friends is very important at that age. But whether this can be achieved through plastic surgery is debatable.
ABC Nightline's Lead Story - Dr. Sam Rizk & Teen Rhinoplasty
Common treatments for this age group are largely limited to non-surgical procedures such as, oxygen facials and chemical peels, although some young teens have been reported undergoing Botox treatments, rhinoplasty and even breast augmentation.
Older Adults (ages 60+)
There is no doubt that society today places a great emphasis on the way that people look, and so the younger you can look, the better.
Looking younger can even help you to keep your job or get a promotion, so it's no wonder that both older men and women are turning to plastic surgery in their droves.
Fortunately, plastic surgery that is carried out by a fully qualified and well-trained surgeon is relatively safe at any age.
So as long as you are healthy, your age shouldn't stop you from undergoing a cosmetic procedure. Although, some procedures may be modified slightly if you are over 65.
More elderly getting plastic surgery
Common procedures for this age group are: face lift surgery, skin resurfacing treatments and hair transplantation surgery.
Cost
Most people who are considering cosmetic plastic surgery already have a good idea as to what they would like done. What they may be less certain of however, is how much their procedure is going to cost.
Below you will find the average costs for some of the most common forms of cosmetic surgery as given by the American Society of Plastic Surgeons:
•    Abdominoplasty (tummy tuck)    $5,130
•    Blepharoplasty (eyelid surgery)    $2,828
•    Breast augmentation    $3,351
•    Breast implant(s) removal    $2,288
•    Breast lift    $4,207
•    Buttock augmentation    $4,500
•    Buttock lift    $4,379
•    Calf augmentation    $3,900
•    Cheek implants    $2,739
•    Chin augmentation    $2,000
•    Facelift    $6,231
•    Forehead lift    $3,161
•    Gynecomastia (male breast reduction)    $3,013
•    Hair transplantation    $4,676
•    Lip augmentation (other than injectable materials)     $1,683
•    Liposuction    $2,884
•    Lower body lift    $7,247
•    Otoplasty (ear tuck)    $3,054
•    Pectoral implants    $3,810
•    Rhinoplasty (nose job)    $4,306
•    Thigh lift    $4,507
•    Upper arm lift    $3,729
•    Botox injection    $375
•    Cellulite treatment (Velasmooth, endermology)    $230
•    Chemical peel    $706
•    Dermabrasion (not microdermabrasion)    $1,200
•    IPL laser treatment    $470
•    Laser hair removal     $383
•    Laser skin resurfacing – ablative    $2,040
•    Laser skin resurfacing – nonablative    $1,156
•    Laser treatment of leg veins     $1,030
•    Laser treatment of leg veins     $404
•    Microdermabrasion    $146
•    Sclerotherapy    $354
•    Soft tissue fillers: autologous fat     $1,700
•    Poly-L-Lactic acid (Sculptra)    $940
•    Calcium hydroxylapatite (Radiesse)    $650
•    Collagen, bovine/porcine (includes Zyderm, Zyplast)     $468
•    Collagen, human    $475
•    Hyaluronic acid    $547
•    Polymethyl methacrylate (Artecoll, Artefill)    $1,099
The above prices are just average prices, so you can expect these to vary depending on where you live and which surgeon you go to.
Plastic surgery costs can also vary from year to year, so you can generally expect them to increase slightly each year in line with inflation.
Cosmetic surgery costs do not solely represent the actual cost of the procedure that you are having done. Typically, they will also include a number of other related costs such as:
•    Consultation fees
•    Office visits
•    Surgeon's fee
•    Facility charges
•    Anaesthesiologist Fee
•    Cost of implants
•    Lab fees
•    Cost of medications or drugs
In terms of paying for your surgery, very rarely will you find an insurance company that offers plastic surgery insurance.
The only time that insurance (e.g., health insurance) will cover the cost of your surgery, is if you are having reconstructive surgery and not surgery done purely for cosmetic reasons.
But this only applies if you have taken out a policy that includes such coverage. It should be noted, however, that some organizations do offer their employees plastic surgery insurance under a group coverage plan.
So in the large majority of cases, it will be up to you to either save the money required, or to take out a finance plan if one is offered by the company who you are having your surgery with.
There is also the possibility of taking out a plastic surgery loan, but unless you absolutely need to, try to avoid taking out loans because they are a very easy way to get yourself into debt!
Factors Affecting Surgery
If you decide to have plastic surgery, there are certain things that you should be aware of which may cause complications when you undergo surgery.
Below you will find a list of some of the most important issues:
Health
Before you have plastic surgery, you will have to undergo a series of tests to determine your current level of health.
This will also include an investigation into your health history, such as any surgeries you have had in the past, any current medical conditions you have or have had, and any treatments that you have received.
Certain medical conditions may alter the way in which your surgeon carries out a procedure on you. So it's extremely important that you inform them about conditions such as blood clotting problems, heart problems, allergies, eye disease and diabetes.
Remember, a surgeon will only agree to operate on you if they feel that it's safe for them to do so. If you are in poor health, you may therefore be refused surgery.
Medications
If you are taking any form of medication, then you must inform your surgeon about them. Some medications for example, can affect how much you bleed.
If the surgeon was not aware that you were taking these medications, it could pose a very serious threat to your life when you have surgery.
You should also disclose to your surgeon any vitamins or herbal supplements that you are taking, as they could interact with any anesthetic that you are given and cause complications during surgery.
If your surgeon asks you to stop taking any medication or supplements before your surgery, then make sure that you do so.
Your Weight
Plastic surgery is often carried out to make people look thinner. But if you are currently overweight and are planning to lose weight because you are on a diet, you should tell your surgeon of your intentions.
Your surgeon may then recommend waiting until you have lost the weight before you have surgery. This is because losing weight after your surgery may negatively affect the results you get.
For example, if you are getting a facial procedure done, such as a face lift or facial implants, it's always best to get such procedures done after you have lost weight because that will allow the surgeon to better determine the size and shape of the implants used.
Reviewed – 30th March 2016