Rhinoplasty, also known as a nose job, nose surgery or nose reshaping, is one of the most common types of cosmetic plastic surgery performed each year.
This, however, is hardly surprising, because the nose is something that is constantly on display, and if you don't like your nose, you will become motivated to do something about it.
For a lot of people, this motivation eventually leads them to visit a plastic surgeon for rhinoplastic surgery.
Noses Suitable for Rhinoplasty Surgery
Noses come in lots of different shapes and sizes, and you may be wondering whether a cosmetic surgeon will be able to change the appearance of your nose?
Below are listed some of the main distinguishing features of different nose types and what nose surgeons can do to alter their appearance.
Irregular Nasal Tip
Your nasal tip sits right at the end of your nose, and in some people, one side of their nasal tip looks different from the other. For example, one side may be bigger, smaller, higher, lower or slightly twisted to one side.
Since the shape of the tip of your nose is largely dependent upon the underlying cartilage, irregular looking tips usually occur as a result of your genetics or an injury.
A cosmetic surgeon can operate on the cartilage under the nasal tip so that both sides appear symmetrical (the same).
Crooked Nose
Many people go throughout much of their life never realizing that they have a crooked nose. This is because a crooked nose is not something which is always obvious when you look at yourself in the mirror.
Usually, it is only when people see themselves on video or in a picture that they realize they have a crooked nose.
A crooked nose occurs as a result of the nasal bones and/or nasal septum not lying squarely down the midline of the face. As a result, the nose looks as though it's leaning to one side.
Most of the time, crooked noses are inherited, although they can also occur as a result of injury.
A cosmetic surgeon can reshape the nasal bones and nasal septum to permanently straighten your nose.
Nasal Tip Projection
An excessive nasal tip projection is a nasal tip that appears to stick too far out from the end of your nose, so much so that it looks irregular. When your nasal tip sticks out too far, it can make your nose look bigger than it actually is.
There are two ways that an excessive nasal tip projection can be dealt with. The first, involves raising the bridge of your nose so that the nasal tip no longer looks irregular. The second option, involves reducing the nasal tip projection itself.
Ask your cosmetic surgeon about both of these approaches, so that you can determine which one will be the most suitable for you.
Depressed Nose
A depressed nose, sometimes called a "ski nose" has an area of depression along the nasal bridge. Typically, this is corrected by using either septal cartilage or an implant to fill in the area of depression.
The result is a smoother, flatter and more uniform bridge.
Wide Nose
For some people, they feel as though their nose looks fine from the front, and maybe even from the side, but what they don't like is the thickness of their nose and so wish that they could have it thinned.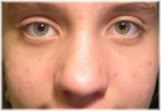 If you have a wide nose, there are several factors which will determine the type of results that you can expect from rhinoplasty surgery.
If the skin around your nose is very thick, a surgeon will be able to change the shape of your nose and maybe make it a bit thinner, but due to the thick skin that is present, it may not be possible to thin the nose as much as you would like.
If, however, your nose is wide due to its underlying bone structure, then a plastic surgeon will usually be able to make a significant reduction to the width of your nose.
Big Nose
If you have a nose that obviously looks too large for your face, then there is a good chance that you can have the size of your nose drastically reduced. Most large noses have an underlying bone structure which makes them relatively easy to reshape.
However, it is important to remember that if you do have a large nose, a rhinoplasty surgeon will not necessarily be able to give you an extremely small nose.
This is because your nose will be reshaped so that it looks normal on your face. If the surgeon were to give you a very small nose for example, it may not suit your face and so it could look out-of-place.
Some people may develop a big nose later in life, such as those suffering from advanced stages of rosacea. In such cases, much more surgery will be required to reshape the nose and the type of reshaping that can occur will likely be limited.
Small Nose
Not everyone wants a smaller nose. For example, if you have an accident where the bridge of your nose has been crushed, or you naturally have a low nasal profile, you may wish to increase the size of your nose to make it look more aesthetically pleasing.
To raise the bridge of the nose, a plastic surgeon will usually take one of two approaches.
The first, involves taking cartilage from your nose, ear or rib to alter the shape of your nose. The advantage of using your own tissue is that your body won't reject it. However, it may later absorb that cartilage which will then require further surgery to correct.
The second approach, involves the use of surgical implants made from silicon rubber or other bone like materials. These implants will not be absorbed or twist once they have been put into place.
But they may gradually shift their position over time and some people may also develop an infection at the site of the implant. In either case, further surgery will be required.
Long Nose
A long nose usually looks normal when you view it from the front, but from a side view, the excessive length becomes obvious. This can make a person feel very self-conscious when people are looking at them from the side.
Fortunately, a plastic surgeon can shorten a long nose so that it appears of normal length. This can be done by reducing the length of the underlying cartilage, shortening the nasal septum or by removing skin within the nostrils.
Nasal Hump
Bumps on the nose can occur as a result of injury or because of your genes, with the latter being the most common cause.
A nasal/dorsal hump can occur with any type and shape of nose. But if your only problem is a hump, then most surgeons should be able to quite easily flatten the hump by filing down the cartilage of the bridge of the nose.
Large Nose Tip
A large nose tip usually takes a bulbous form that makes the end of the nose look rounded or fat.
A cosmetic surgeon will be able to change the shape of your nasal tip by altering the tip cartilage underneath the nose so that it looks less rounded.
Wide Nostrils
Wide nostrils tend to be more common with Latino, African-American or Asian races.  This type of rhinoplasty is sometimes referred to as "ethnic rhinoplasty".
To reduce the width of the nostrils, a plastic surgeon will most likely make a Weir excision. This involves removing tissue from the base of your nostrils where they attach to your cheeks.
A Weir excision can reduce the width and length of your nostrils, thereby making them look smaller.
Types of Rhinoplasty Procedures
Are there different types of nose jobs?
Below are listed some of the different types of rhinoplasty surgery that can be performed. Knowing about these procedures will make you much better prepared when you see your surgeon, and may even give you some new ideas as to how your nose could be reshaped.
It is important to bear in mind, however, that how your nose is reshaped will largely depend on the type of face that you have. As a result, you are unlikely to get the same exact nose as someone else, such as a celebrity, because their nose might not suit your face.
Consequently, your aim should be to improve the appearance of your nose, rather than trying to get the "perfect nose".
Augmentation Rhinoplasty
Augmentation literally means to increase. Augmentation rhinoplasty is therefore a type of surgery which involves increases the size of certain parts of the nose.
For example, you may want a higher nasal bridge, a change to the shape of your nasal tip or to correct a depression in your nose. All of this can be done with augmentation rhinoplasty.
In order to change the shape of your nose, a plastic surgeon will typically harvest cartilage from your nasal septum, your ear or your ribs. Alternatively, they may choose to use implants made from silicon rubber, polyethylene, human dermis or Gore-Tex.
Depending on what you require, the surgeon will perform the procedure using closed rhinoplasty which involves incisions made only within the nose, or open rhinoplasty which involves making incisions on the outside of the nose.
Closed Rhinoplasty
Closed rhinoplasty is the standard procedure for rhinoplasty. This involves making incisions only within the nose, and has the advantage of leaving no visible external scars.
Closed rhinoplasty surgery can be used for some types of nasal tip reshaping, removing bumps or humps, reshaping cartilage and bones and to remove excess soft tissue.
Ideally, you should elect to have closed rhinoplasty as your first option. This however, may not be possible in every case depending on the type of result that you would like to achieve.
Open Rhinoplasty
Open rhinoplasty involves making an incision across the lower or mid columella (i.e., a columellar incision), which is the middle part of your nose that sits between the nostrils.
These open incisions allow a surgeon to lift the skin upwards and over your nasal tip, thereby exposing the cartilage and bone structures that make up your nose.
Open rhinoplasty tends to be most suitable for correcting bulbous nose tips, protruding nose tips or tips that are twisted or have an irregular shape. Some surgeons prefer this techniques as it allows them greater control and more predictable results.
You are likely to have a small scar across your columella once you have recovered from your surgery, but in most cases, this scar will fade and be barely visible.
Reduction Rhinoplasty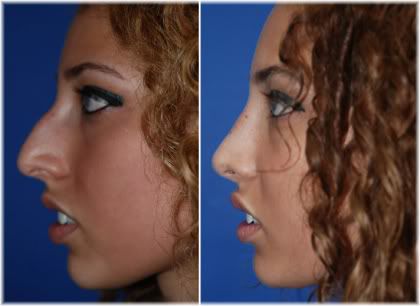 Reduction rhinoplasty is a term used to describe any technique, either open or closed, which is carried out with the intention of making the nose smaller.
Septoplasty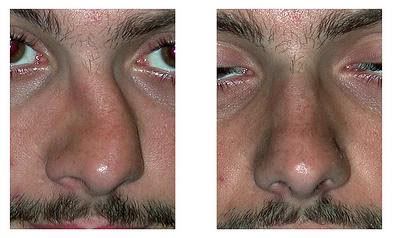 Septoplasty can be performed either by open or closed rhinoplasty via incisions deep in the nostril. In some cases however, such as if you have a crooked nose and a crooked septum, both open and closed rhinoplasty may be required.
Typically, a crooked or deviated septum is corrected by straightening or removing cartilage or bone, or by replacing the cartilage in the midline.
Rhinoplasty - Nasal Refinement - Nose Surgery
People who undergo septoplasty for a deviated septum will usually find that they are able to breathe better after the procedure, especially if their septum was obstructing their nasal passage. Some patients also benefit from the reduction or elimination of snoring.
In order to properly straighten a crooked nose, some work will need to be done on your septum. So you should probably avoid any surgeon who doesn't mention this as part of their operative plan.
Note: If you are undergoing septoplasty to correct a breathing problem, then your medical/health insurance may cover the cost of your surgery providing that it is not being done purely for cosmetic reasons (i.e., cosmetic rhinoplasty).
Weir Excision/Incision (alar base reduction)
Weir excisions are used to narrow the width of large nostrils. This is usually done by removing a small bit of tissue at the bottom of your nostrils, and then suturing those incisions back up again.
Sometimes, Weir excisions may need to be performed in combination with other types of rhinoplasty procedures.
For example, if you have an excessively protruding nasal tip and this is reduced surgically, then Weir excisions may be necessary to reduce the size of your nostrils because the new shape of the nose now causes the nostrils to appear too large and buckle outward.
If done correctly, the scars from the Weir excisions will sit along the normal skin folds at the sides and along bottom of your nostrils (nasolabial fold). When they have fully healed, they will be hardly noticeable.
Tip Rhinoplasty
If all you require is a slight change to your nasal tip, then tip rhinoplasty may be sufficient to give you the results that you desire rather than having to undergo a full rhinoplasty procedure.
In tip rhinoplasty, the surgeon will work only on your nasal tip, and will use either closed or open rhinoplasty depending on the type of revision that you require.
4 The Natural Tip Rhinoplasty
Closed rhinoplasty tends to be used for minor alterations, whereas open rhinoplasty is mostly used for correcting more complicated nasal tip problems.
Revision Rhinoplasty
If you have had one rhinoplasty procedure but are not entirely happy with the shape of your new nose, then you may consider having a revision rhinoplasty procedure. In other words, another nose job.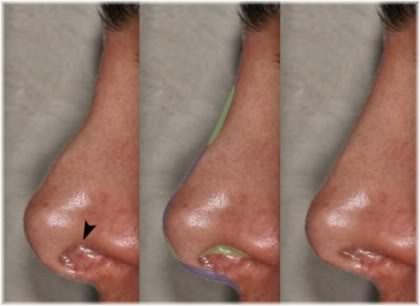 Sometimes, a revision procedure is necessary because the nose could not be, or was not, adjusted to the desired shape during the first procedure.
Most surgeons will happily accept patients who request a revision surgery. They may, however, be far less keen if you are requesting your third or fourth surgery.
This is because people who have multiple procedures may be suffering from a psychological disorder which leads them to become addicted to plastic surgery.
So no matter how much surgery they have, they are never likely to be happy with the results they get. In such cases, the help of a psychologist/psychiatrist rather than a surgeon is likely to be more beneficial, as their problem is probably mental rather than physical.
Apart of the financial cost involved with having multiple operations, there is also a risk that the nose may literally start to fall apart if it is operated on too much (e.g., Michael Jackson's artificial/prosthetic nose tip). This in turn could then cause your voice to sound nasally, or more seriously, affect your ability to breathe properly.
Choosing a Good Rhinoplasty Surgeon
Taking the time to choose a good rhinoplasty surgeon is extremely important for several reasons.
The most obvious is that the surgeon you choose will alter the most prominent thing on your face, something that everyone looks at every day, your nose.
So if you choose a bad rhinoplasty surgeon, you may end up with a nose that doesn't match your face and which you dislike.
The second and less obvious reason, is that rhinoplasty is a very delicate operation which involves carrying out surgery on a region of your body which you use to breathe.
If the procedure is carried out poorly, or incorrectly, you could suffer from breathing difficulties and even have the sound of your voice altered where it starts to sound nasally.
For these reasons, amongst many others, rhinoplasty surgery is considered one of the most difficult and challenging cosmetic procedures for a training plastic surgeon to master.
As a result of these difficulties, you, as a potential patient, want to be 100% sure that the surgeon who you eventually choose is well-trained, experienced and suitable for the job. That is of course, if you want to get the best results possible.
The only way that you can do this, however, is by seeing multiple surgeons, as this will allow you to compare the different surgeons, and also, the facilities that will be used during your procedure.
When you finally do meet with a surgeon, try to ask them some of the questions that are listed below:
What Training Did They Receive?
Some plastic surgeons are trained in general surgery, whilst others undergo head and neck surgical training.
Generally speaking, you will find that surgeons who have been trained in head and neck surgery will produce the best results because part of their training included rhinoplasty.
How Many Rhinoplasties Does the Surgeon Perform?
The more rhinoplasty procedures that a cosmetic surgeon does each year, the more experienced they will be and so the more likely they are to produce high quality and consistent results.
However, being experienced does not guarantee that they will give good results, so this should be just one thing that you factor into your decision-making process.
As a general rule, look for surgeons who perform at least 25-30 rhinoplasty procedures each year. This will ensure that they are highly skilled at what they do, and are also practicing their skill on a regular basis.
What is Their Revision Surgery Policy?
Out of all the different types of plastic surgery procedures, rhinoplasty has one of the highest revision rates. So make sure that you ask your surgeon what their policy is on revision procedures, just in case you get a result that you are unhappy with.
For example, will you be charged a full amount or a discounted rate if you require a second surgery? How long will you have to wait for a second surgery? Will that revision surgery be performed by the same surgeon?
Are They Board Certified?
A surgeon who has been board certified means that they have undergone extensive training in plastic surgery. This not only increases the probability of you getting a good result, but will also greatly reduce the amount of risk that you are exposed to.
Ideally, your surgeon should also be a member of a society for plastic surgeons such as the American Society for Aesthetic Plastic Surgery or The British Association of Aesthetic Plastic Surgeons.
Video
How to find a good plastic surgeon - www.bizzibox.com
How to Look at Before & After Pictures
Looking at before and after rhinoplasty photos is the best way to determine how good a surgeon really is, and what sort of results you can realistically expect to get from them.
If you go to a surgeon who is unable to show you any before and after pictures, you are probably better off going elsewhere as you will have no idea as to the type of results they are capable of producing.
The same applies if you are only shown one or two photos, because this probably indicates that the surgeon doesn't do very many procedures and so isn't very experienced.
When looking at before and after pictures of nose jobs, some of the questions that you should ask yourself are:
• Does the nose look better after surgery?
• If the nose was crooked, is it now straight?
• If the nasal tip was too big, is it smaller now?
• If the nose was big, does it look smaller now?
• Does the new nose suit the person's face?
• Would you be happy if you got the same result?
• Do the nostrils appear the same size and symmetrical?
• Does the tip of the nose sit at a natural angle, or is it upturned/downturned?
• Does the bridge of the nose look natural, or are there indentations in it?
Remember, the photos that you are shown are your chance to judge the work of the surgeon, and they are your best chance of seeing the type of results that you are likely to get from them.
Since these photos are also likely to be the surgeon's best work, if you don't like what you see in their photos, go to another surgeon!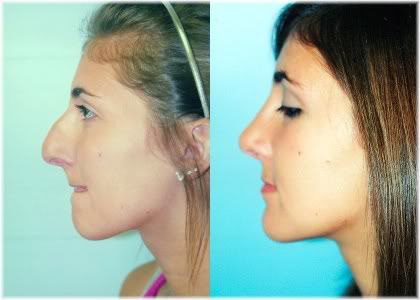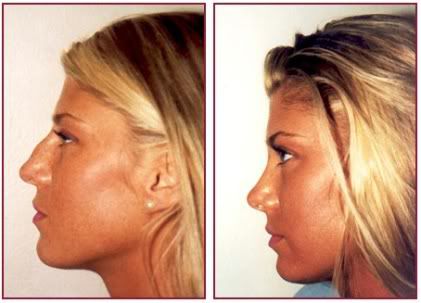 Finally, the pictures that you see should ideally be of a similar type of surgery which you are considering having done.
Different types of procedures are used for different types of noses, so you want to be sure that the surgeon will give you a good result using the same procedure that you require.
Rhinoplasty Computer Imaging
Rhinoplasty imaging techniques involve taking a picture of your nose and then altering it digitally on a computer.
This allows you to see the effects of changing the shape of your nose and how well it fits your face. It is also an opportunity for the surgeon to get a clear idea as to what you would like done.
However, it is important to note that whatever image you are shown will be used as a guide only. It does not necessarily reflect the exact nose that your surgeon will give you, but rather an idea of roughly what you can expect.
Some cosmetic surgeons may use less high-tech imaging methods. For example, some may use transparencies over photos or draw over the photo itself.
Don't be discouraged if a high-tech method isn't used, because some of the best rhinoplasty surgeons may be the ones who are still using the old imaging techniques.
Rhinoplasty - 3D Computer Imaging | Nose Job Before & After Photos - Dr Spencer Cochran - Dallas
If you are not offered any imaging techniques to see what your future nose could look like, then you are probably better off going to another surgeon.
This is because the surgeon is unlikely to have a clear idea of what you want to achieve, which may then result in them giving you a nose which you dislike.
Risks & Complications
Just like any other form of cosmetic surgery, there are certain risks associated with having rhinoplasty that you should be aware of before deciding to go under the knife.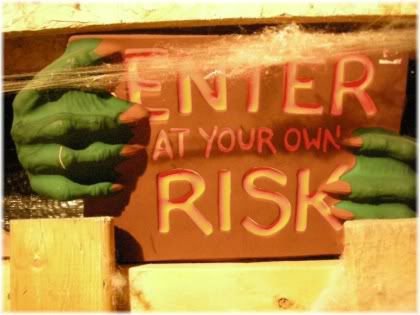 In addition, due to the fact that a nose job is an invasive surgical procedure, it is important to note that these risks can occur during your nose re-shaping operation while your surgeon is operating on you, and also, after your operation during the recovery period.
What we have so far been calling "risks" can actually be subdivided into two categories:
Side Effects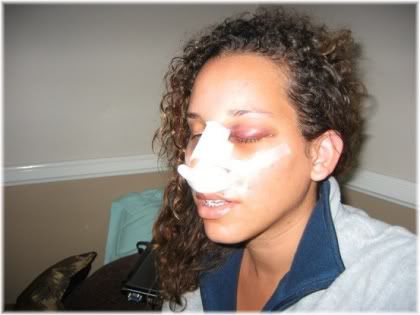 Side effects include usually unavoidable consequences of surgery, such as swelling or bruising, that occur as a result of the bones in your nose being broken, reshaped or filed down.
Side effects occur with all forms of cosmetic and plastic surgery, although the effects are temporary and normally disappear within a few days.
Complications
Complications can include things such as adverse reactions to drugs/anaesthesia or excessive bleeding.
Complications are more serious than side effects and will normally require immediate medical attention by your cosmetic surgeon or doctor.
This is because, if left untreated, a complication from rhinoplasty surgery could potentially be life threatening.
Safety Under the Knife, Rhinoplasty Risks
Now that you are aware that risks can include both side effects and complications, below we will discuss some of the most common risks that you will be exposed to when having a surgical nose reshaping procedure.
All patients should be aware of these risk factors before having surgery, and so should make sure that they have fully discussed the following side effects and complications with their surgeon during their consultation meetings.
One should be very weary of agreeing to having surgery with a surgeon who has not discussed the following risks, as this could indicate that they are more interested in making money from you than with your safety or with giving you the best result.
What are the risks, complications, and side effects of a rhinoplasty (nose job)?
Less reputable surgeons tend not to discuss these risk factors for fear that doing so will scare potential customers away.
This is considered to be unethical medical behavior, and so all good rhinoplasty surgeons will make sure that you are fully aware of what could go wrong before agreeing to operate on you.
Swelling
Following rhinoplasty surgery, you will experience a signficant amount of swelling and bruising on your face. Some people describe it as looking like you have just fought a boxing match and lost badly.
You can expect swelling and bruising around your nose and eyes which may also make it difficult for you to breathe or see properly for the first few days post surgery, although most of it should clear up within a week or two.
In some people, they may experience nerve damage which causes a permanent reduction in their ability to smell. There is also the risk of the skin remaining red after surgery, taking on a rosacea like appearance.
Note: In some people, especially those with thick skin, they may experience swelling for up to two years post surgery.
Scarring
Any time that an incision is made in your skin, you will get some kind of scarring as a result. It doesn't matter if it's rhinoplasty, a face lift, thigh lift surgery or abdominoplasty, all forms of invasive surgery will leave a mark behind.
However, when it comes to rhinoplasty, the type of scarring that you will get can depend on the type of surgical technique that your surgeon chooses to use.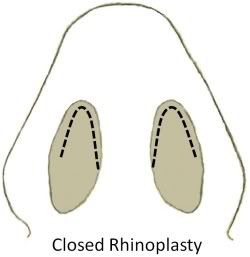 With closed rhinoplasty, for example, all of your incisions may be made inside the nostrils leaving you with no visible external scarring.
With open rhinoplasty, however, an incision will be made on the columella so that the skin of the nose can be pulled back to give the surgeon greater access to the cartilage and bone underneath.
Of course, this will then leave a small scar on the outside skin of your nose that separates your nostrils.
External scarring can also occur if you are having a procedure done to change the size of your nostrils. Weir excisions for example, involve making small incisions where the sides of the nostrils meet the skin on your face at the nasolabial folds.
Scarring from rhinoplasty is generally something that you only have to worry about if you are having external incisions made on the skin, as you won't be able to see the scarring inside your nose.
It is also worth knowing that in some cases, scarring can build up on the inside of the nose and affect its overall appearance. So internal scarring can sometimes be just as much of a problem as external scarring.
How much scarring you get is impossible to accurately predict, as everyone heals differently from surgery and so can get different types of scars.
In general however, the risk of having a thick or wide scar that is very noticeable, is most likely to occur in smokers due to the smoker's body having a reduced ability to heal itself.
Fortunately, these types of scars can be excised and re-sutured which should solve the problem. But you will still have a scar, just a much less noticeable one.
Bleeding
If the nasal lining within the nose is cut during surgery, internal bleeding can occur as a result. This may occur both during the surgery and after the surgery, but can be controlled with pressure, nasal sprays or nasal packing.
Sometimes, blood may pool underneath the skin resulting in what is known as a haematoma or hematoma, which will then have to be drained away to avoid excess pressure building up underneath the skin.
Bleeding problems tend not to be that common and are usually quite easy to control. Your risk of suffering from bleeding problems, however, can be increased if you have a blood clotting disorder such as haemophilia, or if you are taking any blood thinning medication such as aspirin or natural supplements such as ginkgo biloba or vitamin E which thin the blood.
Infection
Infections can include both viral and bacterial infections, although your main risk is of a bacterial infection as viral infections are only likely to occur if you require a blood transfusion during your surgery. But even then, the risk of contracting a viral infection, such as hepatitis, will be very low.
Your main risk therefore is suffering from a bacterial infection of the nose or chest, and when having rhinoplasty surgery, the risk of this happening to you will be greatest if surgical implants are used to alter the shape of your nose.
Although, any time that the skin is cut will make it more susceptible to infection. So it is important to keep your wounds clean and disinfected during your recovery period to minimize the risk of an infection occurring.
If an infection does occur, you will be prescribed antibiotics which should clear up the problem. If the infection persists, then any implants which you have had inserted may be removed and later replaced.
Cartilage Graft Problems
If your rhinoplasty procedure involves the insertion of cartilage grafts, there is a chance that they may be absorbed or become twisted at a later date. If the shape of the nose is significantly affected by this, then a second surgery will be required.
Eye Injury
As rhinoplasty involves operating on the face, close to the eyes, there is a risk that some damage to the eye could occur. If the eyes are protected during surgery, however, then this risk should be minimal.
Broken Capillaries
Rhinoplasty can result in large amounts of swelling and bruising of the face, and so a person may experience thread veins as a result of broken capillaries.
If thread veins do occur, then you may require laser treatment in order to get rid of them.
Breathing Problems
Sometimes the nasal passages may become blocked or obstructed. This can cause alterations in a person's tone of voice, breathing problems or cause a person to snore at night when previously they did not snore.
Such complications will usually require that a person sees an ear, nose and throat, or ENT, surgeon, for correction of the problem.
Anesthesia Reactions
Adverse reactions to anesthesia can cause respiratory problems such as blocking your ability to breath properly, or heart problems such as a heart attack.
Adverse anesthesia reactions are most common in smokers, and those with an underlying health condition such as diabetes or asthma.
Adverse reactions may also occur as a result of any prescription medication or vitamin supplements which you are taking, so it is important that you disclose this information to your surgeon before they operate on you.
Death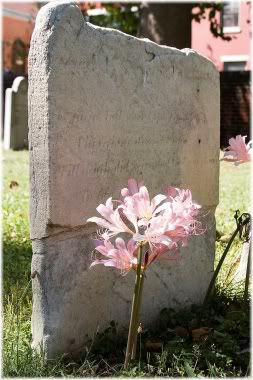 Death is a very real risk of cosmetic plastic surgery, although thankfully, also a very rare risk. The most common causes of death from cosmetic surgery are heart attack and pulmonary emboli as a result of a deep vein thrombosis (DVT).
Medical tests and screening examinations carried out before you have your rhinoplasty procedure, will usually be successfully in detecting if you are at risk of suffering from a fatal surgical complication, and if you are, stop you from having your surgery.
Disappointing Results
Rhinoplasty surgery has one of the highest revision rates out of all the various cosmetic surgery procedures. The main reason for this is that some people go into surgery with an unrealistic expectation as to how their nose will look afterwards.
However, as should have been explained to you by your surgeon, the type of result that you get must be suitable for the type of face that you have. Ultimately, this means that you may not be able to get the exact size or shape of nose that you originally wanted.
NT Vol. 4 Ch. 6 - Rhinoplasty Complications & Recovery
For most people, it takes at least a few months to get fully used to their new nose, as their old nose is something which they have lived with for many years and so suddenly seeing a new nose on their face can at first appear strange.
If you are truly unhappy with your nose, then you may actually feel more self-conscious about your appearance than you did before you had your rhinoplasty surgery.
This can cause a person to withdraw from society, and may even cause them to fall into a depression until they are able to get a revision surgery and the result they wanted in the first place.
Cosmetic Surgery Gone Wrong
Most people who are unhappy with the shape of their nose following rhinoplasty, feel that their nose is still too big, that their crooked nose hasn't been straightened enough or that they have an asymmetry where the nose appears to slant over to one side.
Some people however, are unhappy with the way their nose looks because it does not appear natural or is radically different from how their original nose looked.
What Went Wrong? Beverly Hills Surgeon Explains
Abnormally shaped noses are most like to occur if a person has had many rhinoplasty procedures. Although abnormal results can also occur due to having surgery with an inexperienced surgeon.
Below are some examples of abnormally shaped noses following surgery. These are likely to require revision surgery if the patient feels unhappy with the way that their nose looks.
Upturned Nose
This type of nose has a very low or depressed bridge with nostrils that point upwards rather than forwards. This results in the nose taking on what is sometimes referred to as a "pig nose" like appearance.
Broad Nasal Tip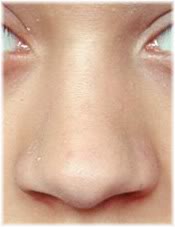 A broad nasal tip occurs when the tip of the nose appears too wide in relation to the bridge. This can then result in the overall nose appearing larger in size.
Pollybeak Deformity
A pollybeak deformity gets its name because the nose resembles a bird's beak. It usually occurs due to a surgeon not shaping the nose enough or not shaping it correctly.
Hanging Columella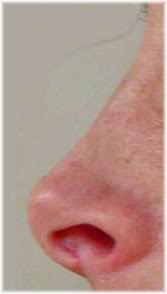 The columella is the middle part of your nose, the skin that separates your nostrils. A hanging columella occurs when this skin appears to hang out from the nose causing the nostrils to look flared.
Saddle Nose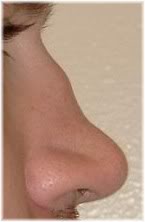 A saddle nose occurs when too much bone is removed that causes the bridge to take on an irregular saddle like appearance.
Droopy Tip

When the lower half of the nose appears to slant down at the tip, it is called a droopy nose tip. This most commonly occurs after the removal of a hump on the bridge, and where the nose has not been left properly supported thereby causing it to droop.
Recovering After Plastic Surgery
It is not uncommon for someone who has just had rhinoplasty to look like they had a fight with Mike Tyson. Put simply, your face will be bruised, swollen, sore, tender, black, blue and in pain.
The good news, however, is that due to the remarkable healing ability of the body, you should recover from most of your symptoms after one week, and you will probably feel well enough to go back to work after two weeks.
But you won't fully recover from all the swelling and various other postoperative changes until about a year after your surgery.
Rhinoplasty recovery & healing | Dr. Thomas Lamperti | Seattle Facial Plastic Surgeon
Below are listed some of the things that you can expect to occur during your recovery period.
Pain
For most people who undergo rhinoplasty or septorhinoplasty, their first encounter with pain occurs when their anesthetic begins to wear off. This tends to be the most painful period, as it is also the period of greatest psychological shock to the body.
The following day, pain can largely be reduced with oral pain medications and ice packs to reduce facial swelling. At this stage, you are likely to feel more discomfort than intense pain, although you can expect your nose to feel tender for the first one to two weeks after surgery.
Some people have bleeding that occurs either during or after their surgery, and the cosmetic surgeon will need to take steps to control it.
One way of doing this is by placing gauze packing up each nostril. This however, can significantly intensify the pain and discomfort that you experience until that packing is removed.
If you are having your septum straightened, nasal septal splints may be sutured across the septum to hold it in the midline during the healing process.
This can make breathing difficult as it obstructs the airways in the nose, but breathing should return back to normal once the splints have been removed.
Daily Activities
It is a good idea to try to plan out a rough guide of what you will do during your recovery period, so that you can keep yourself occupied, not get bored and understand what you will and won't be capable of doing.
During the first few days of recovery, you are likely to be in the most pain and discomfort. As a result, you probably won't feel like doing much of anything except lying in bed.
When you begin to recover, however, you will start to feel more active and will be able to move about more freely.
Due to your appearance during the first week of recovery, you will probably want to stay at home. Although, you may also want to venture outside early in the morning to go to your local shop.
But if you don't want to leave your home, make sure that you have enough food and water to last you for the time that you will remain home bound.
After the first week, your appearance will have improved to the point where you will probably feel comfortable going outside your home. For example, you may choose to go to the movies, shopping or visit a friend.
Whatever you decide to do, it is important that you don't do anything too strenuous or anything that works up a sweat such as exercise.
You should do what you feel capable of doing, but understand that your body needs to use its energy on the healing process rather than for other activities.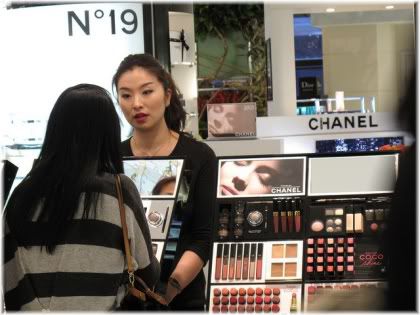 As far as driving goes, it is generally not recommended to drive during your first week of recovery.
The reason for this is that your eyesight is likely to be impeded somewhat as a result of your surgery, and you are also likely to feel drowsy from the pain medication which you are taking.
So if possible, try to get someone who will agree to drive you places rather than you driving yourself.
Normal Reactions To Surgery
If you have never had plastic surgery before, then the changes that you experience to your body will be new, strange, and sometimes, even scary.
However, by being aware of what could happen after surgery, and therefore, what is normal, you will feel much more relaxed and at ease during your recovery and less prone to anxiety, panic and worry.
Some of the things which are normal and may happen immediately after rhinoplasty surgery are:
• Swelling
• Bruising
• Facial tenderness
• Facial pain
• Breathing difficulties
• Alterations to your voice
• Reduced clarity of vision
Some of the things which are not normal and should be reported immediately to your surgeon are:
• Extreme swelling
• Extreme bruising
• Persistent bleeding
• Signs of infection
• Prolonged visual impairment
• Prolonged breathing impairment 
Judging Your Results
It takes a long time to completely heal from a rhinoplasty surgery. The good news however, is that around 80% of your healing will occur within the first 30 days. The other 20% can take anywhere from six months to a year.
You should therefore not judge the results of your surgery until the healing process has finished and you are fully recovered. But after your first 30 days post surgery, you will get a reasonably good idea of what the end result will look like.
Reviewed – 1st April 2016