In today's busy world, stress has become an unavoidable part of life for many people. This stress may be caused by unsatisfied primary feelings (internal stress), the environment you are in (external stress) and/or learned patterns of stress that you have picked up from people around you such as family or friends.
Listening to your body when you are feeling stressed is therefore very important, because by ignoring it, you will only cause yourself more stress later on.
When you begin to experience more stress you may then turn to a distractor such as drugs, alcohol or entertainment in an attempt to escape the painful feelings that you are feeling. This, of course, will then lead to even more stress.
In this article, we are going to begin by looking at how stress can be caused by your situational environment. This simply means the things that happen to you in your life.
For example, your situational stress may be related to your job, because at times you feel overwhelmed with the amount of work that you have to do.
Whatever your stress is caused by, these feelings can be greatly reduced by listening to the way you feel and then responding appropriately to it, something which we shall be looking at towards the end of this article.
Causes of Situational Stress
Stress is your body's way of telling you that if you don't get something done, something bad might happen to you.
Stress therefore provides you with motivational energy so that you can do what needs to be done and avoid the negative consequences of not doing it.
In this way, stress can actually be very beneficial, because it focuses your mind on something thereby increasing the likelihood that you will take action upon it.
The trouble, however, is that stress also has many harmful effects on the body, and whilst it can motivate you into taking action, too much stress can have the opposite effect.
Therefore, one of the most effective ways to manage your stress, is to prevent yourself from experiencing it in the first place.
As with all our feelings, this is done by first examining your perspective of the way things are so that you can then better understand why you are experiencing the feelings that you have.
What's really causing your stress?
If you are feeling stressed because you feel like you have more things to do than you have time, ask yourself, "do I really have as much to do as I think?". You may discover that you actually don't have that much to do, and so will immediately reduce your level of stress.
You might then discover that your stress came as a result of poor time management or a lack of organization, which, if you were to remedy, could get rid of your stress.
Or perhaps you are stressed as a result of over-reacting to a situation by imagining things to be worse than they actually are?
Alternatively, you may discover that your stress genuinely comes from a very heavy workload, and therefore, you would benefit from prioritizing your work, starting with the most important tasks.
Whatever you discover as a result of examining your perspective of the situation, the important point to remember, is that by carrying out this step, you are giving yourself the best chance of reducing or eliminating your stress because you are going directly to the cause of it.
Without addressing the root cause, your feelings will become increasingly more painful which may then cause you to seek out a distracter to distract yourself from them.
Whilst this may appear to provide some short-term relief, in the long run, it will only end up making things worse.
The power of no!
One of the things that can make situational stress worse, is the inability to say "no" when someone asks you to do something.
Sometimes, this is because we want to feel useful or needed, and helping other people allows us to fulfil such needs.
Whilst other times, it may be because an authority figure, such as a manager, asks us to do something which we fear that if we don't do will then result in a negative consequence.
In both cases, the inability to say no often comes as a result of low self-esteem, a fear of rejection or a fear of conflict.
For example, you may feel that if you don't do something someone asks of you, then they won't like you. Or, alternatively, you may think that the more things you do for someone, the more they will like you.
Due to these fears, you then find yourself taking on more work or more responsibilities than you can manage, which then causes you to feel overburdened with them and under an increased amount of pressure.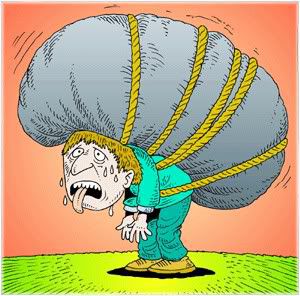 So if you suffer from low self-esteem, a fear of rejection or a fear of conflict, these are areas of your life that you should work on improving, because at the moment, they may very well be causing the stress that you are currently experiencing.
Causes of Habitual Stress
Unlike situational stress which is brought on by your external environment, habitual stress occurs continually and comes as a direct result of your internal mental programming.
Most of this programming was done when you were a child and passed on to you by your parents.
For example, some families may hold the belief that if you are not stressed then you are not working hard enough, or if you are not stressed, then you don't care enough about something.
As a result, stress is almost viewed as a necessity and something which indicates that you are a productive member of society.
In others, there may be a belief that the world is a dangerous, unstable and difficult place to survive in. This can lead to something known as "hyper vigilance", where you are continually on the look out for some possible disaster that could happen in the future.
Whilst other families may hold a belief that no matter how hard you try, something will always come along to ruin your plans. So it's best just to keep your head down and survive the best you can from day-to-day.
Are your family's beliefs stressing you out?
All of the above examples demonstrate how negative beliefs received from parents can cause a person to experience a seemingly constant level of stress throughout their adult life.
It also shows just how easily negative beliefs can be passed throughout generations within a family. This is significant, because many of the beliefs which we form during childhood are stored with an emotional memory in our subconscious mind.
For example, if one of your parents was always stressed because they were constantly worrying about money, then this experience will most likely result in the creation of a negative subconscious emotional money memory.
Later on, when you're an adult, anything that triggers those subconscious memories of money will also trigger the negative emotion associated with it.
This is why you generally find that poor families stay poor, because from a young age, the children are programmed with beliefs such as "money is evil" or "money is hard to get".
Although I have used money in this example, the negative beliefs which cause you stress can be anything.
For example, if you have been taught to worry a lot by your mother, then you will probably pick up the habit of worrying and so will worry about things more often than you should. As a result of that worry, you may then begin to experience stress.
How to Relieve Your Stress
Use these following guidelines to help you manage your stress and respond appropriately to it.
1) Identify the Feeling
Stress is the uncomfortable feeling that you get from being overwhelmed with work or other commitments. Stress can also come from losing control over a situation.
2) Remember the Meaning
Stress is a form of fear which tells you that something bad might happen if you don't do or complete something. This motivational energy is meant to focus your attention on the task at hand.
3) Decide Why You Are Feeling This Way
Try to determine why you are experiencing your stress by deciding whether it is being caused by a situational or habitual factor.
Situational stress
Situational stresses comes as result of things in your external environment, and therefore, does not occur all the time.
Situational stresses may be caused by poor time management or poor organizational skills, an incorrect or inappropriate perspective of a situation or an inability to say no to others.
Habitual stress
Habitual stresses comes as a result of your internal mental programming, and is therefore experienced as a continual stress throughout the day.
If you always feel stressed, then examine what negative beliefs you may have acquired from your parents. Did they always argue over money? Were they always worrying?
Try to think of the negative beliefs you have, and see if they are similar to what your parents believed in or how your parents acted.
4) Respond Appropriately to How You Feel
Use the following steps to determine how you should respond to your feelings:
1) Check your perception of the situation. Do you really have as much to do as you think?
2) If the answer is no, then your stress will automatically be reduced.
3) If the answer is yes, then create a plan for reducing your stress by deciding what you need to do, when it needs doing by and what you should start working on first.
When you find that you have a lot of things to do that are making you stressed, ask yourself questions such as:
-- Am I doing something because I don't think someone else can do it as well as me?
Could someone else do it?
-- Am I doing something because I don't think someone else will do it?
Could they do it if I asked them to?
-- Am I doing something to make myself look good or be liked by others?
Is there anything else that I can do to achieve this aim?
-- Am I saying yes to everything people ask of me because I don't want to disappoint or let them down?
Would I really be letting them down by saying no? Am I putting my own needs second by saying yes?

If you answered yes to any of the above questions, then you may find it helpful to work on improving your level of self-esteem.
People with low self-esteem tend to be dependent on external factors for the way they feel. By constantly doing what people ask of them, they feel that this will result in other people liking and accepting them.
Therefore, by building up a healthy level of self-esteem, you will no longer be trying to win the approval of others through the actions you take. In turn, this will allow you to focus on satisfying your own needs, wants and desires, rather than someone else's.
Learn to Organize & Manage Time
If you are taking on lots of tasks because you don't think that they will get done, or done very well, then you may benefit from learning how to delegate work to other people.
This can be found in many books on management and leadership. These books will also help you to manage your time better and organize yourself, which will then allow you to prioritize your most important tasks first.
Address the Cause
Whilst you can use various methods to reduce the level of stress you feel, such as meditation, stress balls or even smoking, it is important to remember that these will not remove the cause of your stress. They will only help to temporarily manage it.
For this reason, you should think very carefully about what's causing you to feel stressed out, because once you identify the cause, you can then take effective action to remedy the situation.
Video
How to Reduce Your Stress
Reviewed – 26th March 2016