The biggest risk when it comes to investing in the stock market, is financial risk. Make a poor investment and you could lose a significant amount of money, or worse, all of it!
Take the dot-com bubble as an example. During 1999 internet stocks were seen as a quick and easy way to make money due to the rapid growth of the companies which those stocks represented.
In some cases, growth rates went as high as 70%, and so for many people, internet stocks were seen as a far better investment option than savings accounts which only offered a measly 1-7% rate of interest.
Of course, as we know today, the record growth rates that occurred in 1999 did not last for very long, and when the value of those stocks crashed, so did the hopes and dreams of the people who had invested in them.
Not all loses, however, are as dramatic as the dot-com bust, as any company that is doing poorly financially can experience a rapid decline in the value of their stock, which, of course, also means a decline in the value of your investment.
In this article, we are going to be looking at some of the main risks that are associated with investing in the stock market. Why is this important? Because once you become aware of what risks there are, you should, in theory, then be able to avoid those risks, and by doing so, safeguard the integrity of your investments.
Interest Rate Risks
Rising and falling interest rates are of particular concern to stock market investors, as historically, rising interest rates have had a negative effect on the value of stocks.
The reason for this is simple, as any company which carries a large amount of debt, or will need to borrow money in the future, will have to pay more for that money because the cost of borrowing it increases.
The long-term effect of this is that the profitability of the company will be reduced, as will its ability to grow. When a company's profits drop, its stock value will also drop. This is why it is important to take into account how much money a company is predicted to make and the level of debt that it is in.
The less money a company is making, and the more debt that it is in, the more vulnerable it is to fluctuating interest rates and the riskier of an investment it becomes.
Customers
The success of a company is largely dependent upon its ability to sell the products or services it specializes in. Rising interest rates can therefore affect a company by negatively impacting its customers. This may include the general public or other companies which buy from it.
What this means is that the health of a company is also affected by the health of its customers, because this affects how much a company will grow and how much it will earn. All of which then affect how much the company is worth on the stock market.
A good example of how rising interest rates can have a negative impact on the stock value of a company, can be found with Cisco Systems in 2000.
A large part of Cisco Systems' sales went to the telecommunications industry. Cisco's profit was therefore largely dependent upon the health of those customers in that industry.
During this time, however, the debt of the telecom industry rose to around $700 billion, which eventually resulted in telecom companies buying less from Cisco and buying less overall in general.
The effect of this was that Cisco's profits shrank, and from March 2000 to March 2001, Cisco's stock price fell by nearly 70 percent.
Investor Action
Interest rate fluctuations can cause investors to change their investment strategy. If interest rates go up, investors may do one of two things:
1) Sell shares
Any shares that are at risk of being negatively affected by rising interest rates, may cause an investor to sell them. Some interest sensitive industries include electric utilities, real estate and the financial sector.
Generally speaking, rising interest rates negatively affect industries in these sectors, whilst falling interest rates give them a boost.
2) Change investment
Investors can either favor having an increased amount of current income from their investments, or wait for their investment to grow in value over time and then sell when its value has increased.
Investors who are looking for increased current income, tend to prefer higher interest rates and so may switch from stocks to bonds or a bank certificate of deposit (CD).
Inflation Risks
Just as rising interest rates can pose a risk to your investments, so too can inflation. Inflation results in everything which you normally buy becoming more expensive than it used to be because the value of your money has decreased. So if it cost you $1 to buy a loaf of bread, for example, with inflation it may now cost you $2.
So as a result of inflation, things become gradually more expensive and your purchasing power (the amount of things you can buy with your money) also begins to decline.
When it comes to the investments that you make, the risk you face is that the value of your investments may not be able to keep up with the rate of inflation.
For example, if you have money in a bank account earning 3% interest, then you are safe in terms of having minimal financial risk.
If, however, the rate of inflation goes up to 4%, then you will be losing money because your money is losing value faster than interest is adding to its value.
With any type of investment that you make, you must therefore always remember to take interest and inflation into consideration, especially when you are making a long-term investment over a period of decades.
Cash Flow Risks
A less obvious risk that is often overlooked when investing in the stock market, is that of personal cash flow. For instance, suppose that you invest $10,000 in the stock market. The value of your investment may decrease in the short-term, but if you are investing for the long-term, then this won't affect you.
What will affect you is if you then need that money for something else, but because your money is tied up in the stock market, you find yourself short of cash.
If this occurs, you may then have to sell some of your stocks, which could result in a net loss if you sell for an amount less than what you originally paid.
Of course, an alternative strategy to selling stocks is to take out a short-term loan, although in most cases, this is likely to lead to an even bigger loss.
This scenario is a common one that is experienced by many investors who decide to invest in the stock market, but don't set aside enough money to support themselves as their investment matures.
So if you are thinking of buying stocks, make sure that you have a detailed picture of your future cash flow situation so that you can keep your investment as a long-term investment and will not be forced to break into it when things get tough. A good way to do this is with an emergency fund.
An emergency fund is simply money that you keep saved away in a savings account for the times when your primary source of income gets cut off. This may be because you lose your job or because you become unable to work due to illness or injury.
Whatever the reason, having some money set aside which you know that you can draw upon in times of need, will help to protect your current investments and provide you with a buffer period in which to secure another source of income for yourself. The larger your emergency fund is, the greater the financial protection that it will provide you with.
Emotional Risks
In addition to the financial risks that are involved with stock market investing, there are also various emotional risks which you should take into consideration before you buy or sell any stocks.
Emotions are important when it comes to investing, because in an emotional state of mind, your actions are largely driven by how you feel about something rather than by what you logically think about it.
There are three emotions that you should pay particular attention to: greed, fear and love.
Greed
During the late 90s, many people invested in the stock market because they saw internet companies as a quick and easy way to make money.
The result was that many people invested in companies without first looking to see if they were indeed a good long-term investment.
Since everyone seemed to be buying internet stocks, it soon became a common perception that internet stocks could make you millions, but only if you bought them now and before it was too late. Unfortunately, for many people, this turned out to be a very bad move, as during the dot-com bust they lost virtually all their money.
The moral of the story is to always keep your focus on the fundamentals. Look to see if a company is making money, if it is in debt and its projected future earnings.
If the fundamentals are sound then look at how much money it could make you, rather than being blinded by the money first and then later having to regret making a bad investment decision.
Fear
Fear can come from fearing that you may lose out on an investment opportunity if you don't buy now, fear of not being able to financially support yourself if your investments don't go as well as planned, or fear that you should sell now before your investments lose any more value.
Be aware of fear, because like greed, fear can cloud your judgment and cause you to act irrationally. So don't make important decisions when you are in a state of fear, and if possible, get someone else's view on the situation as they will be able to see things from a clearer perspective.
Also, if you are in the stock market for the long-term, then be aware that the stock market has its ups and downs, and that historically, your investments will increase in value over time if you stick with them for long enough.
Love
Strangely enough, some people become attached to their stocks, and will continue to hold onto them even when the value of their stocks are decreasing and future indications suggest that the situation will get worse.
Emotional attachment to a stock is most likely to occur when you feel personally invested in a company, for example, because you were pushed into an investment or were given some stocks by family or friends.
The key to successful investing is not to get attached to your stocks, but rather, to see them for what they are, an investment vehicle.
When your stocks are doing well and you think that they will continue to do well, hold onto them. When you think that they are doing poorly and will continue to do poorly, sell your stocks.
Future Risks & Concerns
In addition to the risks we have discussed thus far, listed below are some other concerns and risks that you should be aware of.
Debt
Debt is an increasingly growing problem for many western countries like the United States, where debt levels have reached record highs for just about every category. This debt must eventually be paid off or wiped out through bankruptcy.
Whatever happens, when it finally does happen, it will have a negative effect on the economy which will subsequently affect the value of your stocks, the stock market as a whole and the rest of your investment portfolio.
The best way you can prepare for such an event is to ensure that you work to reduce the amount of debt which you currently owe, and if possible, get rid of your debt completely.
You should also be applying a similar principle to the stocks you choose and keep. Avoid stocks which have increasing amounts of debt, or large amount of debt, as these may be particularly at risk in the future.
Real Estate
An expanding money supply, excessive credit, debt growth and a lowering of lending standards, have all contributed to the recent decline in the real estate market.
As a result, millions of homeowners, investors and speculators have all been affected and no one is exactly sure how much further we have to go before things start to turn around.
In order to survive through such times, make sure that you have your mortgage under control and eliminate your debt or reduce it to manageable levels.
Inflation
Historically, rising interest rates and inflation have been bad news for the stock market.
Although in recent decades we haven't had a serious bout of inflation like we did during the 1970s, the expanding money supply and increasing debt levels seem to suggest that we are headed for another inflationary period.
This is likely to be most severe in countries such as the United States and Great Britain, whose currencies continue to lose value in the global market. For a stock market investor, having your money grow becomes more important than ever when you are dealing with rising inflation.
During inflationary times, some stocks, such as mortgage companies with fixed debt portfolios, will suffer, whilst others, such as precious metals mining companies, will prosper.
As a stock market investor, it's up to you to buy stock which will perform well as inflation slowly creeps upwards.
Pensions
Pensions are an increasingly growing and serious problem throughout many countries of the world.
This is due to numerous factors such as people living longer, people not saving enough for their retirement and many governments/large companies having problems in their financial ability to meet retirement plan obligations.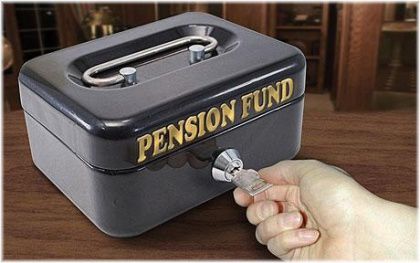 As a result, many retirees may find that they do not get as much money as they were expecting, and if they don't have much money saved up of their own, they could find themselves in a very difficult financial situation indeed.
The message is clear; pension plans are not the "sure thing" they used to be. You can't rely on a pension to be there for you when you retire, and you certainly can't rely on how much you are going to get.
In order to avoid suffering when you retire, ensure that you have enough money saved up so that you are able to support yourself without having to rely on someone else who may or may not be there for you.
Recession/Depression
If you look at the history of the stock market, you can see that declines in economic growth have always followed artificial economic booms. In recent years, we have seen the exact same pattern repeat itself as the world entered a global recession.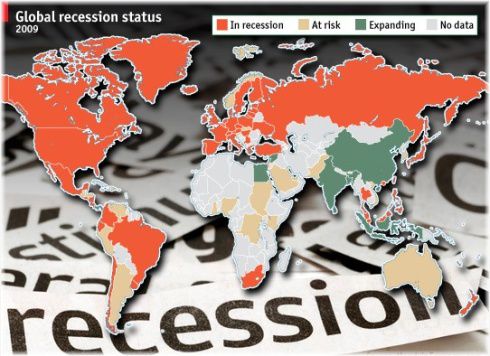 Some believe that we are out of the recession, and it's true that some countries such as Germany are now showing positive economic growth. But whether the same can be said for countries such as the United States or Great Britain, is less clear.
During these tough economics times, the safest stocks are defensive (e.g. food & utility companies) because people will buy such products no matter how bad the economy is.
Overall, play it safe and protect your money with financially sound companies and avoid taking any unnecessary risks.
Commodities
The 1970s were a great time to invest in energy, precious metals and commodities. Today, we are seeing a similar patter occur.
Gold and silver have hit all time record highs, and stock investors who invested in these industries early are making massive gains. As the dollar continues to become devalued, we can expect the price of precious metals to increase even further.
In addition to this, developing countries such as China and India need increasingly more commodities such as grains, base metals, energy and water for their expanding economies and populations. When demand outstrips supply, the stocks of such companies will skyrocket.
Energy
The world's appetite for energy is going to increase in the short run, especially as the economies of developing nations start to grow. As a stock market investor, this means that there will be plenty of opportunities for money to be made in the energy market.
In the long run, new technologies will be developed which will eventually decrease our demand for energy, and supply energy from sources that are not dependent on the burning of fossil fuels.
Therefore, in the long run, there will also be opportunities for investments to be made in these alternative energy companies.
Reducing the Risk of Stock Market Investing
So far in this article, we have examined some of the main risks associated with stock market investing. Being aware of these risks should help to make you a wiser investor and one who is less vulnerable to the many dangers that the stock market holds.
In the rest of this article, we shall provide a list of risk reduction strategies that you can use to more safely invest your money. It is important to remember though, that none of these strategies will completely eliminate risk, they will only reduce it.
So you still need to be very careful about what investments you make and who you choose to invest in.
Know Your Investments
If you are going to be investing your money in a company, you should know as much as you can about it before you invest. This is something that is practiced by Warren Buffett, someone who is regarded as one of the most successful investors of all time.
Despite this sounding like obvious advice, which it is, you would be surprised at how little some people know about the investments they make.
I have come across some people, for example, who know more about their favorite sports team than they do about the companies with whom they are invested in. Needless to say, such investments are very rarely successful.
At a minimum, make it your aim to know how the stock market works, the factors that affect stock value and how to analyze a companies current and future earnings. This should put you in a good position when it comes to selecting successful stocks.
Remember, if you don't know much about the stock market, don't buy stocks! Educate yourself first, then buy!
Play For Free
If you have never invested in the stock market before, then a good risk free way to practice is to pretend to buy stocks which you think would make a good investment. If the value of your stocks goes up, then you are probably ready to invest with real money.
But if your stocks do poorly, then you should go back and do a bit more research to learn the factors that affect stock value before making your next investment.
Get Rid of Debt
Whilst you may be able to make some money by investing in the stock market, if you are currently in debt, then you could be losing more money than you make. So get yourself out of debt first, and then buy stocks.
Major debts include credit card debt and personal loans, both of which tend to have very high interest rates that result in you paying back much more than you originally borrowed. So if you have such debts, pay them off first because the interest on them will literally eat you alive!
Is Your Job Secure?
As was mentioned previously, when you invest in the stock market your money will be tied up in those stocks for a certain period of time. This means that during this period, you will need some other money to support yourself with.
For most people, their main source of income will be their job and so it is important to ensure that your job is secure for the long-term.
If there is any chance of you losing your job in the immediate future, then unless you have a lot of money tucked away in reserve, you would be better off waiting until you find a secure job before you go ahead and invest in the stock market.
Today however, long-term job security tends to be relatively rare, so you may want to compensate for this by saving up an emergency fund.
Have Adequate Insurance
Insurance will protect you against large financial losses. So at a minimum, you should have health insurance and disability insurance first before you buy any stocks.
If you don't have such major forms of insurance, and you were to suffer a large financial loss, you could then find yourself in a very difficult financial situation that results in the loss of all your investments and even your home.
Diversify Your Investments
Diversification is a strategy which many investors use to protect themselves against circumstances which could reduce the value of their investments. There are three main ways that you can do this when investing in the stock market:
Don't buy only one stock type
If you only buy one type of stock you may make a lot of money, but the risks in doing so will be very large. By purchasing several different types of stocks however, you will protect yourself from suffering one big loss and will also find it much easier to recover from setbacks.
Don't purchase stocks from only one industry
Some industries perform better in the stock market than others, and so to some, it may seem like a good idea to invest only in those industries.
However, it is generally recommended that unless you are an expert in a particular industry, that it is better to buy stocks from several different industries to protect yourself should one industry start to experience a downturn.
Don't buy stocks only
Whilst the stock market can be a great way to make money in the long-term, you shouldn't only invest in it and nothing else. Who knows what the future holds in store for the stock market and the stocks you have bought?
So to protect yourself financially, spread your money out into bonds, bank accounts, treasury securities, real estate and precious metals such as gold and silver.
Note: Some financial experts do not agree with the advice of diversifying your investment portfolio in terms of the stock selections that you make.
Some argue, that providing you have a detailed level of understanding in a particular area, that you can invest in it whilst still minimizing the risk that you are exposed to.
Videos
Investing Psychology - Greed
Investing Psychology - Fear
Reviewed – 23rd March 2016